Chapel of the Holy Cross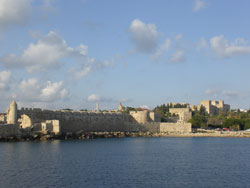 The Chapel of the Holy Cross is at the entrance of the Catholic Cemetery.


Historical Data

The planning of the Catholic cemetery started in 1925. The Cemetery is located on the road to Kalithea. It was planned by Florestano di Fausto who also played an important role in planning several buildings in Rhodes during the Italian period. The masterplan involved three necropolis areas – the Catholic cemetery on the town side, the Muslim cemetery in the centre and the Jewish cemetery on the far side. Behind the Catholic cemetery, a wide area was added for Orthodox graves. The Catholic cemetery is accessible through two arches at the sides of the funerary chapel, known as "Chapel of the Holy Cross".

A semicircular columbarium is located in the middle of the cemetery, to host the remains of soldiers who died during the Occupation, topped with a monumental cross. During the war, between 1939 and 1943, the building was enlarged, partly planned by Petracco, and more walled niches were added for the dead during the war.

In the last few years, after long years of neglect, the cemetery has regained its former beauty, thank to the Parish priest and many volunteers. At present it is divided into sections dedicated to St. Angela of Foligno, St. Elizabeth, St. Margaret of Cortona and St. Catherine.

A small chapel holds the mortal remains of some religious. Certain areas are is dedicated to British, French and Italian soldiers.

It is interesting and curious to point out that the priest invites the visitors coming to pray for their loved ones to take care of and "adopt" those graves which never get visited. In this way, many of the dead are remembered and their tombs are well taken care of and have flowers.

Holy Mass is celebrated every second Friday of the month; on September 14th, The Feast of the Holy Cross, and on November 2nd there is a Solemn Requiem to commemorate the souls of the dead.