Lent/Easter, 2016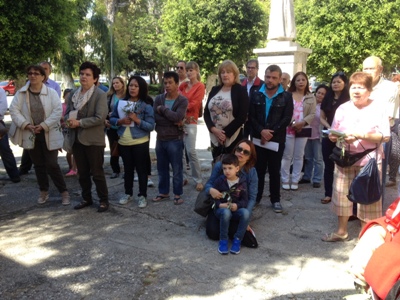 As we progress through the Year of Mercy we continue to explore the wonders of His bountiful Mercy. We began by defining what exactly mercy means. Each language group in the parish researched the meaning and we formulated a basic and simple definition: Mercy is compassion, forgiveness, leniency, kindly- forbearance, pity, benevolence, tolerance. Mercy may be given or received. As the year progresses we will continue to examine this precious gift that we receive and that we are bound to impart to others. We were delighted to read that Father Azzizi ofm had been released in Syria. We offered many prayers for him and his family. We saw the release as an answer to all those who prayed for him, we saw it as an affirmation of God's mercy that has no end. It was with great sadness that we said goodbye to one of our Nigerian families, John, Janet, Jeremiah and Joshua as they left for Spain. I have since spoken with them and they now have a new member to the family: Joy. All the Js! We are very fortunate having a generous friend in Father John Asimakis, a priest from Thessalonica who has generously furnished us with many books in Greek for the library and various booklets and pamphlets for Catechism and for the elderly The tax situation in Greece continues to be very worrisome. As well as Income tax and Property tax, the former Emergency tax that was paid through the electricity bill has now been incorporated into the property tax. The electricity bill now carries a new "tax" which is being called "Community contribution", in order to avoid the use of the word Tax. So an electricity bill of 100 Euros is now 200 Euros with these added community charges. Furthermore the government has said that some taxes will be made retroactive, which means that taxes already paid in former years could be re-examined and require further charges. In addition to all this, every year since 2010, we have been obliged to pay the taxes for the current year with 55% of the total amount for the following year in advance. This year this amount is to be increased to 75% and 100 % in 2017! Our hope of turning to anything that resembles normal life dwindles as we live under this constant cloud of increasing and ever changing laws of taxation. We were delighted to read that Giovanni Borracesi who catalogued all our silver artefacts is to go to Jerusalem to do similar work there. In January we were at the Greek Archbishop's house for his feast day; as always we were greeted with fraternal love and respect. We cherish our warm and sincere relationship with our brothers and sisters of the Orthodox Church. We were delighted to see Bishop Savas from Ghana and Bishop Apostolos from California USA; both of whom are native to Rhodes. Bishop Apostolos is the brother of a much appreciated friend of ours who has a carpet cleaning company and has taken care of all our needs with professionalism.
We bless the parishioners' houses each year, beginning our house to house visits at and after the Feast of the Epiphany. This personal visit to the families bears much fruit. We are able to spend time with them, exchange information, encourage and promote the faith within the life of the parish on a more personal basis. It is a great opportunity for evangelisation. Klaus, the Danish pastor who visits Rhodes, lost his wife last year. He has now retired and has had to leave the parish house in Denmark where he had lived for over forty years. We accompany him with our prayers. It does mean that he will be able to spend more time with us in Rhodes. The building that has belong to the Archbishop for some years is being transformed into a hotel, thus after thirty years the Finnish pastor and his wife and the organist of the Finnish church have now transferred into some of our premises in Kathopouli Street. These premises had formerly been shops. Following a great deal of work and above all much patience, they have now been transformed into splendid offices of the Lutheran church. We appreciate our positive cooperation with our Lutheran brothers and sisters. Margaret their organist accompanies all our liturgies both at Sancta Maria and at St. Francis. The refugee crisis has demanded much of our time and effort.
An additional 131,847 migrants and refugees arrived in Greece by sea between January 1 and March 7 2016 Kos has been defined as a "hotspot". The government is in the process of building a Refugee centre in the village called Pili, someway outside the centre of Kos. The centre can accommodate 800 refugees. Marco Procaccini, a Field Officer for the United Nations High Commission for Refugees, is a parishioner with his wife Weronica in Kos. He has told us that there will be more immigration officers in the new centre to process the refugees' documents. This is good, but once they have documents whither will they go? Tommy Saltini of the ATS (Association Terra Santa) has been a great support to us, helping to buy foodstuffs to feed the refugees who still continue to arrive. We also had a generous donation from Father Stephen O'Kane ofm from the Franciscan Missionary Union of Ireland. Luciano Faraon, a Vatican lawyer, promised us help after visiting in the summer. True to his word, the Centre Beata Maria Bolognesi sent 160 kilos of food and clothes from Italy. We are so grateful for the support that we have received both from within and from outside Greece. The numbers of poor families who come to the monastery door each Tuesday for food parcels has now increased to over 80. Lorna Anacin, one of our parish volunteers, begins the preparation of the food parcels on Saturday in order to be ready by Tuesday. The monastery kitchen is a real hive of activity with boxes and bags everywhere. The free language classes continue, in addition to Greek, English and Italian we have now begun a Polish class. Two volunteers from the parish, Dagmara and Anoushka are doing splendid work and the children are enjoying themselves immensely. The Archbishop writes a pastoral letter each month. These have been a great source of pastoral teaching and promoted discussion and stimulation amongst the parishioners. We recently learned that he intends to erect a seminary in Athens. Like most European countries we need more priests. We pray that God will bless this endeavour.
We recently fortuned upon a member of the CIOFS Presidency, Mr. Attilio Galimberti. He has responsibility for the Secular Franciscan Order in the UK, Italy, Egypt, Greece and all countries formerly under the Soviet Union. For some years now we have enjoyed a retreat day with the parishioners every Monday, studying the Holy Rule and Franciscanism. We have been hoping for some time to re-erect the OFS in Rhodes. We still have two of the original members of the OFS in Rhodes from the Italian period, Terra and Michael Karambala. We hope that together with Atillio, his wife and help from Father José Antonio Duarte - OFS General Assistant for OFM, we may be able to fulfill our desire to re-activate this important Franciscan movement in Rhodes. We were delighted to receive Mr. Enzo Bonanno and his wife in March. They have lived for some 17 years in Leros. They have done much to unite the Italians on the island of Leros with cultural events. Portolago, now known as Lakki is a fine example of 1920s architecture. A celebration is planned in September in the ex- Catholic chapel of St. George which is located in the former arsenal of the Italian military. Archbishop Paisius, the Metropolitan of Leros, will also be present. He was the Vicar General (Protosingolos) of the Greek Orthodox Archdiocese of Rhodes when I first arrived here in 2004. He was then consecrated Metropolitan Archbishop of Leros. He was very kind to me; we have always stayed in contact over the years and it will be a pleasure to be with him again.
A new addition to the monastery is a delightful German-Shepherd pup that we have called Jenny. She is two months old. Our present guard dog Blackie, is fourteen years old. We need Blackie to teach the new dog her skills in protecting the church and monastery which she has done faithfully for ten years now. Despite all our woes and sorrows we live in the light of the Resurrection and the promise of Mercy that endures forever.

We wish each and everyone a joyous and blessed Easter.