British Ambassador Visits Rhodes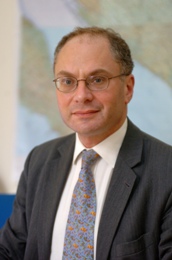 Fr Luke writes:
The British Ambassador, Dr. David Landsman OBE, was appointed Her Majesty's Ambassador to the Hellenic Republic, presenting his credentials to the President on 27th February, 2009. He was Second Secretary at the Embassy from 1991-1994 and his love for Greece and her people is obvious. He speaks Greek well, which is no suprise - his doctorate is in linguistics from Cambridge University.
Therefore it was both a delight and a privilege to receive and invitation from the British Embassy in Athens to meet him during his brief visit to Rhodes on Monday 19th September.
Mrs. Rania Kossori our much loved and respected British Consul organised a cocktail party in his honour at the Rhodes Palace Hotel. As always, her planning and attention to detail were meticulous, enabling everyone to have a most enjoyable and indeed very relaxing evening. The Ambassador moved with ease amongst the guests, engaging each and all in conversation. I was able to seek his advice regarding information on the British Consul, The Honourable Frederic Georges Wilkinson, born in Smyrna, 8th November 1786 and died in Rhodes, 11 September, 1849. He is buried in the Catholic Cemetery in Rhodes. I also enquired about the soldiers that, so it is said, were interred there with him. We know the graves were transferred from the Old Catholic Cemetery situated near to Sancta Maria Church in Neohori when the "Albergo delle Rose" was built by the Italians before the War, but, we have little if any information on this Consul, who, judging by the magnificent memorial erected in his memory, was esteemed by the people of his day. We presume other British dignitaries and military personnel who were also interred in the Old Catholic cemetery were brought to the new Catholic cemetery at that time.
The British Consulate manages admirably during the summer period with the vast number of British tourist who choose the beauty and relaxing atmosphere of Rhode for their holiday destination; it has been estimated over a million tourist come to Rhodes and Kos over the summer period. I often see many of the same faces each year during the liturgies in our churches, which tells us that many enjoy their holiday so much in Rhodes that they return hither year after year. Quite right too!
Rania Kossori is known for her willingness to help others. She is charming and professional and I was happy to inform the Ambassador of our good fortune in having such a wonderful representative here. As I have written before in the Proodos Newspaper, it is through Rania that we have so many marvellous organ concerts and music recitals at St. Francis Church, as a result of her introducing us to Christos Paraskevopoulos the Master Organist from Athens. They are very popular with Rhodians and tourists alike.
The Ambassador was accompanied by Mr. Charles Hay, the director of Consular Services at the Foreign and Commonwealth Office, London. He is very pleased with the Consular work in Rhodes, as is Beverly Lewis, the third visitor who accompanied the Ambassador, who is Her Majesty's Consul in Athens. They have promised to return when the opportunity arises. We understand they have many places to visit, so we are honoured that they took time to visit Rhodes. We may be a small island, but we have much to offer and that was noted by our esteemed visitors. I cannot finish without mentioning the presence of Mrs. Aliki Moschi-Gauguet, the French Consul, whose elegance and intelligence shines at any function she graces, and last but not least dear Savas, the Austrian Consul, kind, gentle and distinguished.
The Catholic Church is not part of any nation; however, she is committed to collaboration and co-operation with all nations. The Church is proud of her precious relationship with the British Consulate who amongst others gives support and encouragement enabling all concerned to give the best service possible for the welfare of all. I recommend the British Embassy Web site which is informative and well produced, it is a reflection on the desire of the Embassy and of its consulate to serve the British people to the best of their ability.
We thank you.
It is an evening to be remembered with the greatest of pleasure.