A Delightful Concert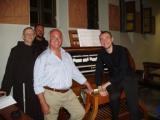 An audience of Rhodian and foreign music lovers was delighted by the concert given by Stefano Pellini in St Francis Church on Saturday 9th July. Stefano played a number of works which, as well as demonstrating his own extraordinary talent, really showed off the organ's range and scope. As one of the audience said later "Who would have thought such a grand instrument could seem to dance and sing like that!" For the piece Variations on "Christus Vincit" by Denis Bedard (1950) Stefano asked Fr Luke and those of the audience who knew it to begin by singing this well-loved Catholic hymn with the organ before he launched into the variations, thus showing how a church organ, however magnificent, is designed primarily to accompany the Liturgy.
We were honoured, too, by the presence of Signor Guido Pinchi, of the Italian organ-building firm of Pinchi from Foligno (Perugia – Central Italy) whose father built this organ in 1939. Signor Pinchi has come to Rhodes especially to assess the condition of the organ and to make recommendations for its future maintenance.